The Mobile Journalism Awards and Workshop advance, identify and celebrate the best mobile journalism reporting each year.

Deadline is February 15, 2022

CALL FOR ENTRIES
https://filmfreeway.com/MobileJournalismAwards
PAST WINNERS
https://www.smartfilmschool.com/courses/mobile-journalism-awards

Finalists are screened International Journalism Festival in April.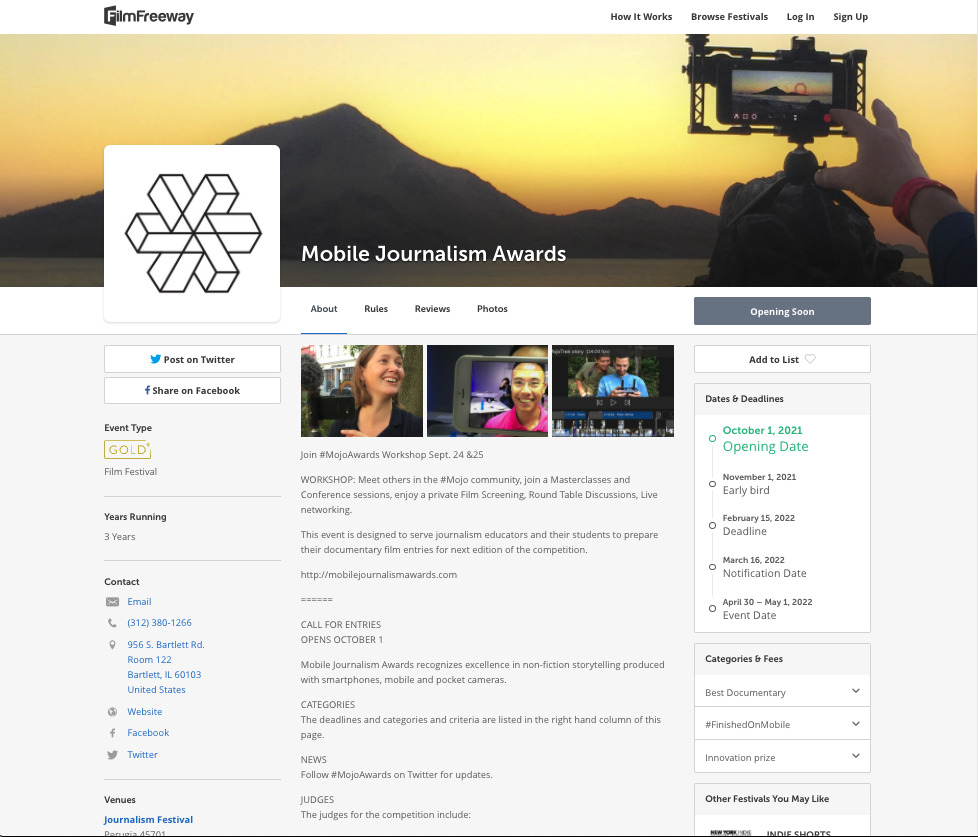 This competition focuses on short-form documentary stories that have been reported with smartphones and other small recording devices like action cams, drones and pocket cameras.
Journalists who can produce films that can produce compelling non-fiction stories with a cinematic quality are a rare breed and this competition showcases the best stories and mobile storytellers each year with international film screenings and recognition at international festivals and Mojo Workshops.
The best films from the Mobile Journalism Awards competition are curated in a permanent collection at the Smart Film School.

This allows scholars from all walks of life to review the collective body of documentary film work and new entries from each year's competition results.
AWARDS AND HONORS
Mobile Journalism filmmakers whose films have been selected will be screened at live event(s) and journalism festivals.
Each journalist who has a film selected in the #MojoAwards festival at www.Mojo.Show will be awarded $500 gift certificates from the Smart Film School.
CHARITABLE DONATIONS
Proceeds from this event and the #MojoWorkshop support Visual Editors, NFP – A public charity that provides visual journalism educational resources.
The public can also support this project by giving to the charity.
Congrats to all who enter!
---

• Answer the Call for Entries.

CALL FOR ENTRIES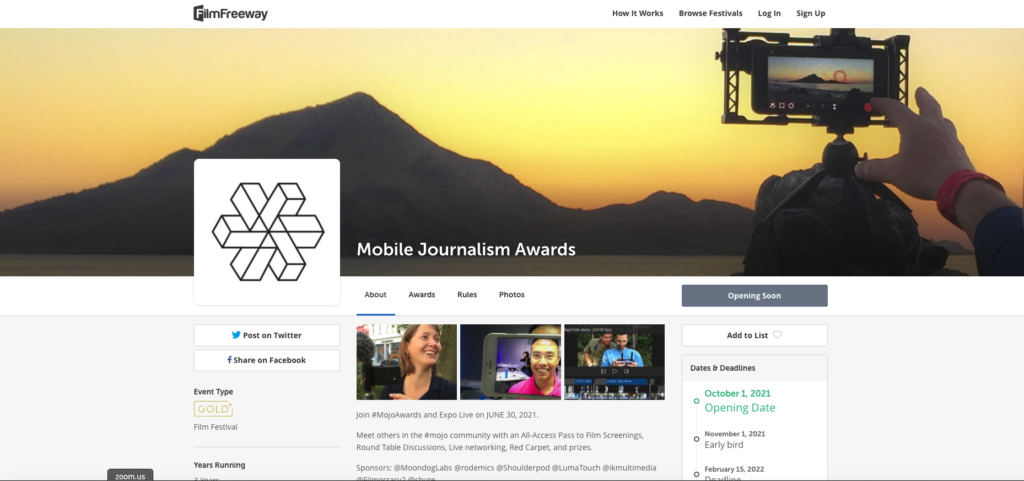 CATEGORY
Best Documentary
• Non-fiction subject between 3 and 10 minutes in length on any topic. Must be accurately reported with integrity using journalism ethics. Creative approaches to editorial illustration and narrative exposition that push the frontier of the documentary genre of are certainly welcome.
SPONSORS
Luma-Touch, Røde, Smart Film School, MoonDog Labs, Filmocracy, IK Multimedia, Shoulderpod, and Shure.

Become a Sponsor.
JUDGES
Marta Machado, Thomson Reuters Foundation, London
Marcela Kunova, Journalism Co UK
Robert Stewart, Emeritus Director, E. W. Scripps School of Journalism
Kim Fox, Professor, The American University Cairo
Jacques Rosselin, Head of the EFJ School of New Journalism, Paris
Naila Hamdy, Director, The American University Cairo
JOIN THE #MOJO CLUB
Viewing the best films and meeting the top mobile journalists who made them is reason enough to register for this MOJO Film Festival.
The #MojoAwards is the annual #MojoMeetup where you can network with MOJO colleagues from around the globe in real time and share tips about the latest tools and techniques.
Join more than 500 mobile journalists at the MOST – Mobile Storytellers LinkedIn group and volunteer your institution to be a part of the awards committee. I
INTERNATIONAL COMPETITION
#MojoAwards has received mobile journalism stories from reporters in United States, India, Brazil, United Kingdom, Mexico, China, Italy, Russian Federation, S. Korea, Egypt, Germany, Iran, Chile, Jordan, Bulgaria, Dominican Republic, Hong Kong, Ireland, Qatar, Sudan, Tunisia, Switzerland, Israel.
Call for entries for the the third edition opens October 1, 2022
---
PARTNERS
Judges are nominated by the directors of these journalism institutions.
USA
E.W. Scripps School of Journalism — Ohio University
School of Film — Ohio University
Visual Editors non-profit – Chicago
Society for News Design – Washington, D.C.

LONDON
Journalism co.uk

PARIS
EFJ School of New Journalism

CAIRO
The American University, Department of Journalism and Mass Communication

BUENOS AIRES
Latin American Congress of Mobile Journalism
---
This group of volunteers forms the competition committee. They are the directors of journalism schools, editors-in-chief, and media development experts.
They advise on categories, judging criteria, and help to coordinate additional screening events of the winning work from this competition..
Journalism is a cornerstone of free speech and a strong defender of democratic ideals.
By raising the standards for mobile journalism and hosting public screenings, journalists can show the impact of non-fiction storytelling.
The Mobile Journalism Awards recognize excellence in non-fiction storytelling by mobile reporters.
The #MojoAwards are a project of Visual Editors, NFP, a Chicago-area non profit that supports visual journalism scholarship.
Make a tax-deductible contribution to support this project.
---
Visual Editors,NFP is listed in Guidestar.
Institutional donors may request a copy of the organization's 501(c)3 ruling from the IRS and the certificate of good standing issued by the Illinois Secretary of State.
MEDIA COVERAGE
A selection of top #MojoAwards films premiere in early April each year at the International Journalism Festival where more than 5,000 journalists gather in Perugia, Italy. The 2022 #MojoAwards event will take place on Saturday, April 30, 2022.

Follow this page and the #MojoAwards hashtag on Twitter for all competition announcements.
Official updates will be posted by @MobileMost and @VizEds
---
PREVIOUS WINNERS
The following mobile journalists were awarded iPads as prizes in Season One (2019-2020) of the competition.
Nico Piro, Italy
Beraat GÖKKUŞ. France
Simon O'Neill, Ireland
Max Schleser, Australia
These brand new iPads were donated by Luma Touch LLC, makers of the LumaFusion video editing app.
In addition monthly drawing winners were awarded gift certificates from Moondog Labs and the Smart Film School.
Category winners were also awarded Wireless Go mic kits donated by Røde microphones.

---
SEASON TWO
NOMINEES FOR BEST DOCUMENTARY FILM

The following films were selected for Season Two of the #MojoAwards. (2020-2021)
With "luxury" against Covid-19 in Malawi
Director Michael Hobeck
Germany
Utopia Of the outraged
Director Marcelo Lagreze
Chile
Beef between cows
Directors Argento Céline & Utz Coline
Switzerland
Moscow
Director Leonela GardeMont
Dominican Republic
Bosnia, where Europe ends
Director Nico Piro
Italy
Soldier
Director Eyad Aldaoud
Jordan
Father and Son
Director Michael Conway
United Kingdom
Awake in Stuttgart
Director José Pabo Estrada Torrescano
Germany
Seeing through walls: Visions of peace and unity
Director Laura Onyeneho
United States
Home visit on the border between China and Vietnam
Director Xiao Hu
China
A Visual Journey through Iran : Sistan and Baluchistan
Director Ebrahim Mirmalek
United States
Paris Lockdown
Director Beraat Gokkus
France
Little Beings
Director Diamida Ordaz
Mexico
Capturing time
Director Itzel Sarmientos
Mexico
EARLY BIRD PRIZE DRAWINGS
The following early-bird entrants won $200 gift certificates from Moondog Labs in the second edition of the #MojoAwards:
Philip Bromwell
Michael Conway
Marcelo Lagreze